The order soft jaws
We provide the best soft jaws and hard jaws in compliance with the customers' request.
We manufacture jaws which is suited to each chuck maker.We handle various kinds of requests, for example, the hard jaws which meets the size and shape of workpiece.
What are the merits?
Enable to process workpiece which is difficult to process.
Enable to show processing know-how to customers.
Enable significant time crunch of centering working hours
Examples of products
Chuck jaws "Kaku-san"

Cost down.
Hold workpiece by 3cm-wide stick shape from 3 spots.
"Kaku-san" is the best jaw only for solid processing.

*When workpiece is thin or hollow, we recommend "soft round jaws" or "60-degree soft jaws Suke-san".

Hard chuck jaws "Kaku-san hard jaws"

"Kaku-san hard jaws" is hard jaws which is hard and not easy deformation because soft jaws are quenched.
It can be used repeatedly without shrpening.
Get high quality, outstanding accuracy and low costs.
The requirements for orders
Analysis of cutting environment
It is essential to analyze cutting environment when we manufacture order-made soft jaws.
What you process
Kind of machines
Kind of chucks
Rotation rates, feed and the amount of cutting
Three elements
Manufacturing of order-made soft jaws need three elements, "base material", "cutting" and "finishing jigs".It becomes the best soft jaws only after completing these three elements.

| | |
| --- | --- |
| Base material | First of all, manufacturing of order-made soft jaws start choosing the best base material which is suited to processing parts. We have our know-how to choose the best base material from abundant records in the past, considering varieties of terms such as the material, degree of hardness and shapes. |
| Cutting | If you make a mistake in centering, the shape of quarter sector become unbalance and it has influence on vibration of cutting, shaking and finishing surface roughness. This shape processing skill is also Teknia's strong point. |
| Finishing jigs | Tools of finishing jig are stockpiled to offer low prices. |
The order type referential production drawing
Besides the following, we examine responded to customer's requests.
Please feel free to inquire.
Aluminum soft round jaws
It prevents abrasion of...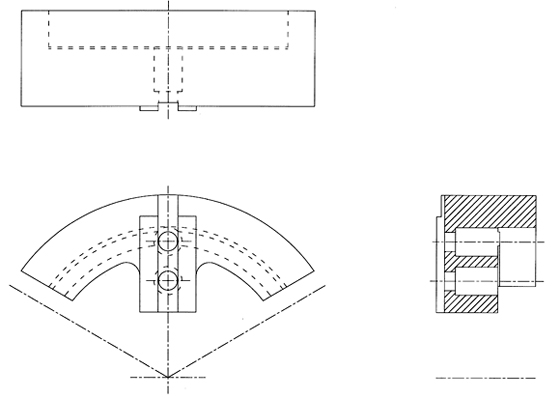 Soft round jaws of special shape
It eases weights when you use high jaws.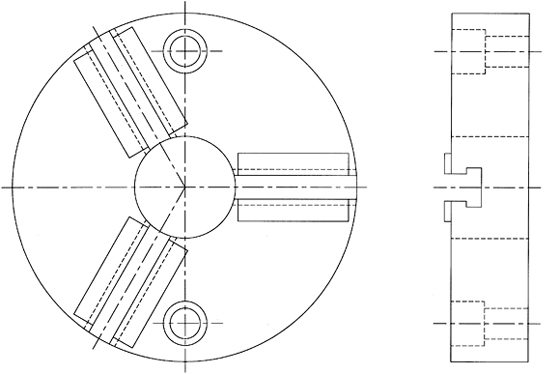 Shaping jigs of soft round jaws (work shaping base)
Manufacturing as to the form of chucking

TEKNIA Co., Ltd.
Head office, Nagoya factory
3-459 Ematsu, Nakagawa-ku,
Nagoya city, Aichi, Japan
TEL.+81-52-303-3347
FAX.+81-52-303-3354
Aisai factory
5-1 Rokujutsubo, Nishiho-cho,
Aisai city, Aichi, Japan
TEL.+81-567-28-9051
FAX.+81-567-28-9050
E-mail info@teknia.co.jp