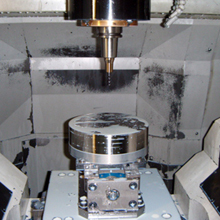 Setup by general purpose small
5-axis processing machine
As an assistant industry in 2009, we have undertaken the task of the following.
Cutting process of difficult-to-cut materials
6-4 titanium
The studying theme
In recent years, 6-4 titanium is commonly used for aircraft parts. We study the 6-4 titanium cutting method, its cutting tools and surrounding tools using a small general purpose machining center. Also, in order to accommodate the aircraft parts, we have installed the 3D CAD/ CAM (CATIA5 ), and examine the process flow from modeling, processing to the measurement.
Background (aircraft industry)
Recently, fuel-efficient passenger aircrafts are much in demand because of the fuel costs rising. For that reason, carbon is commonly used for air frame structure. As a result of this, titanium alloy which is compatible with carbon is adopted, and the number of parts is increasing. However, the process of the difficult-to-cut material titanium alloy takes much time and costs. Therefore, the study of the 6-4 titanium cutting method makes our technique improved, and we consider that orders in aircraft industry will be competitive. It is a studying to propose the best cutting tool and processing condition by 9 companies of tool makers.